Thebe Restaurant & Bar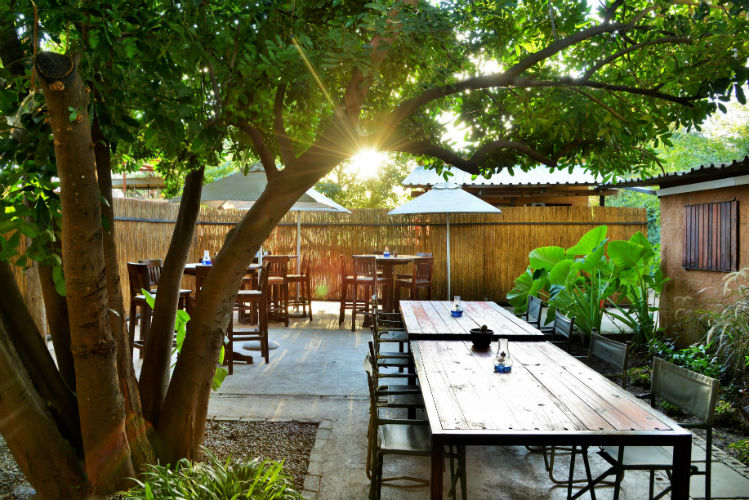 Whether you have been out on a long adventurous day in Chobe National Park or have just arrived from a far off destination, Thebe River Safaris offers the perfect setting to relax and enjoy great food, ice cold drinks and cosmopolitan company within the surroundings of its rustic restaurant and bar area.
With both covered and al fresco dining areas, a wood-fire pizza oven and a bustling kitchen, Thebe Restaurant offers hearty and delicious meals to suit all taste buds and appetites. Thebe Restaurant is also perfectly equipped to cater for larger groups, and offers one of the best breakfasts in town whether you're an overnight guest or just dropping in.
Thebe Bar's buzzy atmosphere makes it a popular hangout for visitors and locals alike, serving local and international drinks and cocktails, and with the added convenience of complimentary WiFi and a satellite television to catch up on all the latest international news and sports.
Offering the only wood-fire pizzas in town and a wide variety of hearty meals.
Thebe Restaurant & Bar is the perfect place to chill after enjoying a long, adventurous day.
SALADS & STARTERS
Thebe Chicken Salad
Lightly seasoned chicken strips tossed in a mixed green salad bedding.
Greek Salad
Olives, feta cheese and chick peas rested on a bed of fancy lettuce.
Green Salad
A wholesome garden salad with tomatoes, cucumber, onion and capsicums.
Beef Salad
Gently marinated beef strips and a boiled egg nestled on a bed of summer greens.
Smoked Salmon Salad
A ready dressed salad with smoked salmon slices, cream cheese and nuts to finish.
Roquefort Salad
Creamy blue cheese laid on a bed of greens drizzled with blue cheese sauce.
LIGHT MEALS
Spring Rolls : Vegetable/Meaty
A choice of beef, chicken or vegetable complemented with a sweet and sour sauce.
Tangy Wings
Deep fried chicken wings prepared with our very own secret recipe with a durky and blue cheese sauce.
Steak or Cheese Griller Roll
Roll garnished with a salad and served with chips.
Plate of Chips
Thebe Sandwiches
A choice of two fillings (ham/ bacon/cheese/tomato/egg/chicken mayo).
Jumbo Cheese Griller
Cheese sausage grilled to perfection and served with chips.
BURGERS
Thebe Cheese and Bacon Burger
Thebe Cheese Burger
Thebe Beef Burger
Thebe Chicken Burger
GRILL & PAN
Chicken or Beef Schnitzel
Coated chicken or beef fillet fried to perfection with our very own home made family secret recipe and complemented with a red wine sauce (optional).
Thebe Cheddar Melt
Fillet steak grilled to perfection topped with cheddar cheese and vegetables.
Prime Botswana Steak
A 150g fillet steak served with a starch of your choice.
Tangy Chicken Wings
Deep fried wings prepared in our very special way and complemented with our famous chilli sauce.
Marinated Pork Ribs
All time favourite slow roasted BBQ spare ribs and chips.
Chobe Bream Fillet
Fresh fish fillet straight from the Chobe River.
Chargrilled Half Chicken
Half chicken and chips grilled to perfection and drizzled in a well-known marinade.
PASTAS
Pasta and Meatballs
Spicy meatballs prepared the Thebe way, complemented with a tomato and onion sauce and parmesan garnish.
Carbonara
A bacon, mushrooms, herb and egg yolk sauce with parmesan finish.
Salmon Carbonara
A salmon, mushrooms, herb and egg yolk sauce with a parmesan finish.
Bacon Alfredo
The all-time favourite, with olives, bacon and red pepper sauce.
Chicken Alfredo
The all-time favourite, with olives, chicken strips and red pepper sauce.
Bolognese
Onion, carrots, celery, beef mince, tomato sauce, parsley, red wine and parmesan cheese.
PIZZA
Forcacia
Cheddar, mozzarella and garlic.
Hawaiian Pizza
Feel fresh with our classic ham and pineapple flavoured pizza.
Italian Pizza
A little touch of Italy in the Chobe with toppings such as ham, salami, olives and mushrooms.
Thebe Carnivore
Our all-time favourite meat pizza prepared the Thebe way, with toppings incuding chicken strips, ground beef, bacon, salami, olives, onions and mushrooms.
Margarita Pizza
Indulge in our home-made margarita pizza with fresh tomato, olive oil and cheese toppings.
Thebe Signature Pizza
Spinach, feta cheese, olives and bacon.
SOUPS
Mushroom Soup
Butternut Soup
Vegetable Soup
SAUCES
Garlic Sauce
Pepper Sauce
Mushroom Sauce
Red/White Wine Sauce
BREAKFAST
Thebe English Breakfast
A fully prepared English breakfast with toast, cold meats, cheese, cereals, fruits, juice/coffee/tea.
Continental Breakfast
Cereals, yoghurts, juice/tea/coffee together with fruits, cheese slices and cold meats.
Omelette
With a choice of two fillings (ham, tomato, onion, cheese, mushroom).
BEVERAGES
Pot of Five Roses Tea
Pot of Rooibos Tea
Cup of Five Roses/Rooibos Tea
Thebe Filtered Coffee
Milkshake
(Vanilla, Chocolate or Strawberry)